We change the laws to change their lives.
Animal Protection Voters (APV) was formed in October 2002 in New Mexico. One important tool that can be used to reduce animal suffering is passing laws that better protect animals. In order to pass local, state and federal laws, it's necessary to build a force that our lawmakers cannot ignore. That is why we are here.
All animals deserve protection from cruelty, neglect, and exploitation.
But real, lasting, systemic change for animals is only possible with strong laws on the books. And enacting these laws is not easy—it takes the tireless work of compassionate, determined, politically savvy, and well-organized advocates who will be the voice for animals in our government.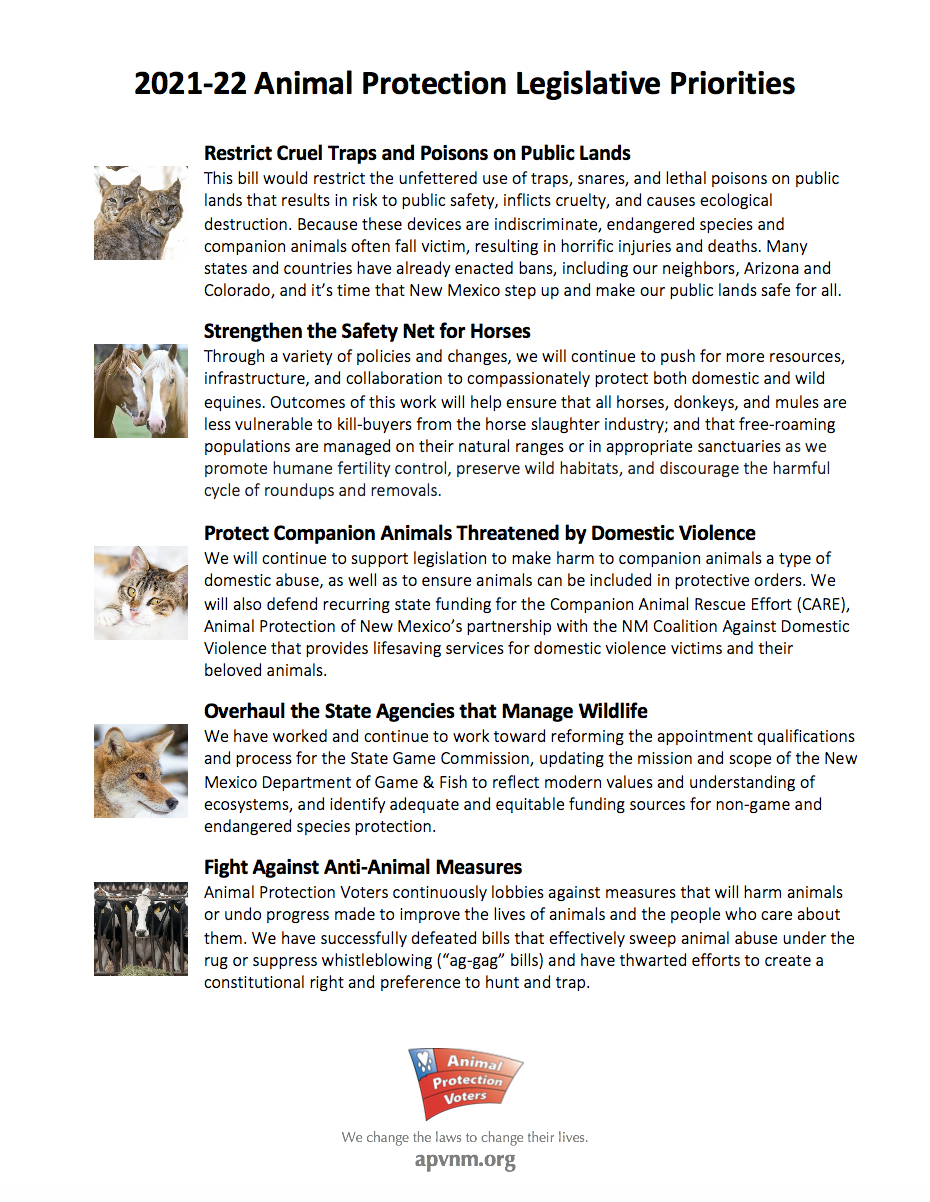 Banned in other Western states, these cruel, dangerous, unnecessary devices pose a serious risk to public safety.
Investment in accessible and affordable services can reduce needless euthanasia and suffering due to animal overpopulation.
More than half of victims delay leaving out of concern for their animals, who are often threatened or harmed by abusers.
Thwarting investigations into a culture of animal cruelty, pollution, and food safety on industrial animal factory farms.
Temporarily defunded domestically by Congress, horses still cross U.S. borders to meet grisly deaths in foreign slaughterhouses.
More like "right to harm": enabling cruel intensive confinement of animals and putting factory farms above vulnerable New Mexico communities.
We know that New Mexicans are concerned about animals and appreciate legislative leaders who value animals in our society. That's why Animal Protection Voters created this scorecard—so that voters across the state can determine if their legislators share their humane values.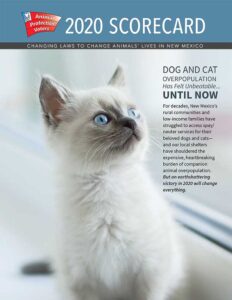 Humane laws are only possible because of humane lawmakers. So we work to support and endorse animal-friendly legislators in state government.