March 19, 2021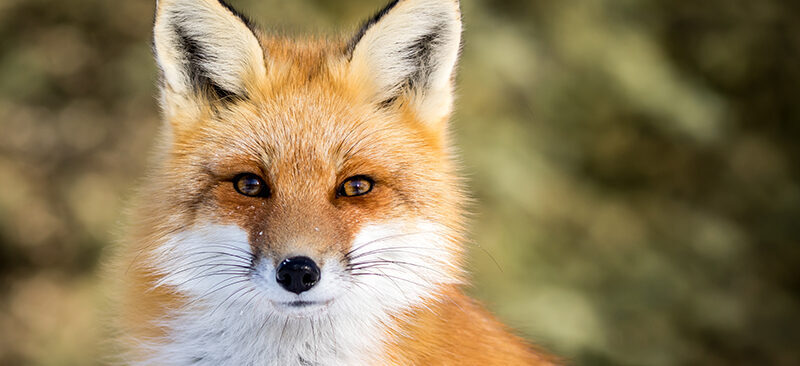 After more than a decade of work—battling a slew of misinformation and fear-mongering from opposition every step of the way, but supported by the majority of New Mexicans—the New Mexico State Legislature passed legislation to ban traps, snares, and poisons on public lands.
The final week of the 2021 state legislative session in New Mexico began with Senate Bill (SB) 32 having passed the State Senate, but needing to get through the legislative process in the State House of Representatives in a matter of days before the session ends. The bill, called the Wildlife Conservation & Public Safety Act, aka "Roxy's Law," was referred to the House Energy, Environment & Natural Resources Committee, and on Sunday morning it passed by a 7-4 vote. All that was left was a full vote on the House floor…
Last night, shortly after 5:00 PM, SB 32 was called up for that final vote. The debate on the House floor was contentious at times, but the bill co-sponsor and presenter, Representative Matthew McQueen (D-Galisteo), repeatedly brought the discussion back to core issues that plague recreational and profit-driven wildlife trapping: It is unjustifiably cruel, indiscriminate, and a black eye on New Mexico as the state builds its outdoor recreation and tourism industries. These points were illuminated by helpful questioning, including by Representative Linda Serrato (D-Santa Fe) and Representative Nathan Small (D-Las Cruces), and highlighted resolutely by fellow bill co-sponsor Representative Christine Chandler (D-Los Alamos). The bill's Senate sponsors, Senator Bobby Gonzales (D-Ranchos de Taos) and Senator Brenda McKenna (D-Corrales) cheered their House counterparts on from behind-the-scenes while in the Senate chamber.
Once the bill debate reached its limit (the House rules impose a limit of three hours of debate per bill), the voting was open, and Representatives (in chamber or remotely via electronic devices) began casting their votes. Note: A tie vote results in a bill failing to move forward. At the end of the voting time period, the vote was tied. As has been customary this session, with many legislators working remotely due to COVID-19 safety measures, the Speaker of the House Brian Egolf—who was presiding over the House floor session—asked the clerk to call on House members who had not yet weighed in to have an opportunity to cast their vote verbally. Once all legislators weighed in, the final vote was 35-34. The bill passed by a single vote!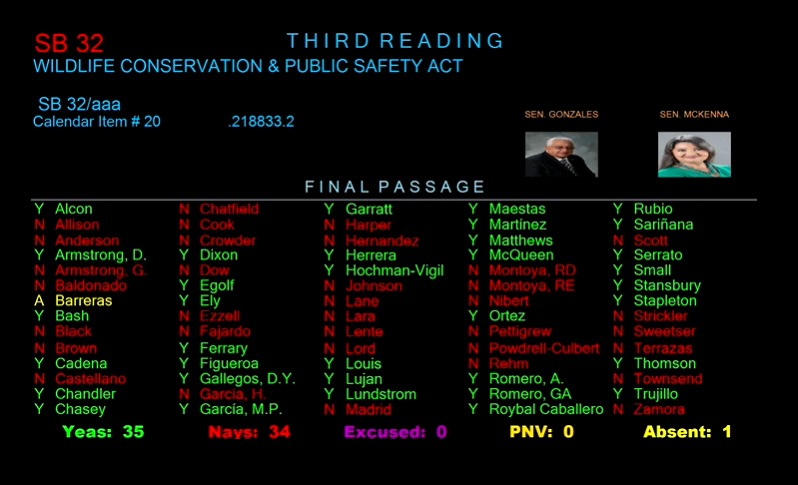 The bill will now head to Governor Michelle Lujan Grisham's desk, where we hope she will sign it into law.
Despite last night's narrow victory in the House, when taken as a whole with the Senate (which passed SB 32 with a bipartisan 23-16 vote), the New Mexico Legislature's message is clear and decisive: Our state is absolutely ready to turn the page on the brutal, irresponsible history of traps, snares, and poisons on public land for commercial gain or ecological destruction. Polling has shown that two-thirds of New Mexico voters support ending wildlife trapping, period. If New Mexico had a ballot initiative process, the effort to restrict these devices likely would have succeeded decades ago. In the year 2021, it is fitting and long overdue that the State Legislature at last take action to turn our values and vision for the future into reality.
The other clear message is that grassroots advocacy matters. It could not be any more apparent that every single vote, and every single voice, counts and makes an impact. And when we work together to solve problems, listen to each other, and stay dedicated to the cause, we can make a difference. The Animal Protection Voters team is thankful to every other individual and organization who got engaged in this process and spoke out for safer, more humane, more ethical, more beautiful, and welcoming public lands. It has truly been a large, team effort!
We will share more information soon about what lies ahead as the bill reaches the Governor. There is no doubt that there will be a last gasp effort by pro-trapping interests to defeat the bill at this point. But we have courage that the majority of New Mexicans' voices will be heard and Roxy's Law will soon, in fact, become the law of the land.
With appreciation, humility, and hope,
Jessica Johnson
Chief Government Affairs Officer