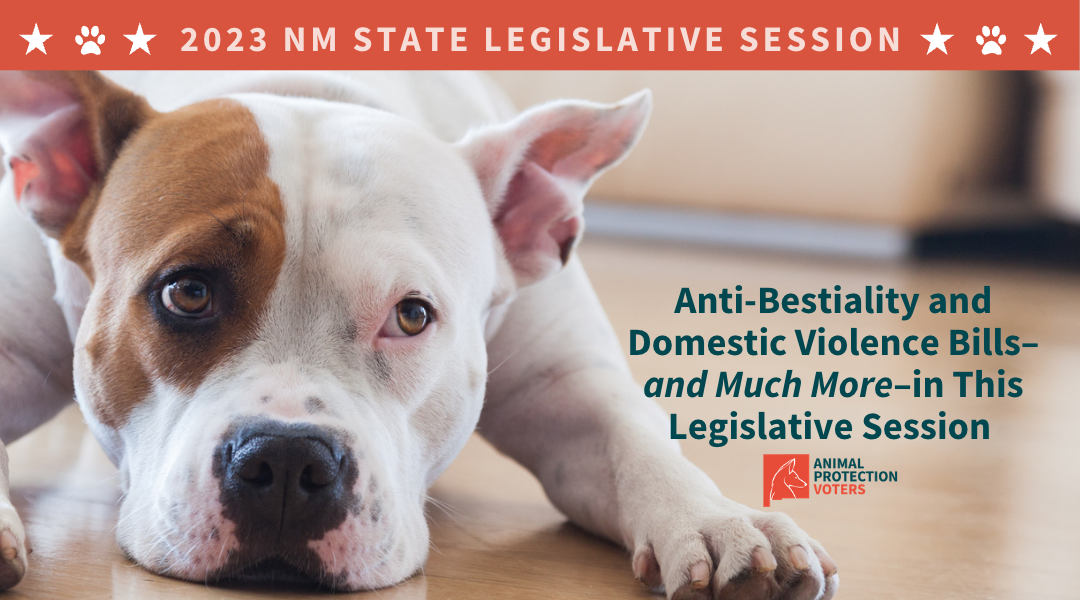 The 2023 state legislative session is already proving to be one of the biggest and busiest sessions in recent years, when it comes to animal protection policies. Just over a week into the session, Animal Protection Voters staff and lobbyists are already tracking or lobbying on 17 pieces of legislation. Here are some of the highlights.
This week, Senate Bill 215, the bill to criminalize animal sexual abuse (bestiality) in New Mexico was introduced. Championed by a strong bipartisan team of sponsors, Senator Mark Moores (R-Albuquerque) and Senator Brenda McKenna (D-Corrales), Senate Bill 215 would establish crimes of bestiality and aggravated bestiality, which would come with felony-level penalties upon conviction. Additionally, those convicted of these crimes would be registered as sex offenders, would be banned from keeping or caring for animals, and may be ordered to submit to psychological assessment and counseling.
Because animal sexual abuse not only harms animals but also is connected to sexual abuse of children and adults, outlawing bestiality in New Mexico will provide a tool for health professionals, law enforcement, and the courts to address this and prevent other harmful behavior. West Virginia is the only other state that has not yet made bestiality a crime. SB 215's first step is a hearing in the Senate Health & Public Affairs Committee—if your Senator sits on that committee, please reach out to urge their 'yes' vote on this bill.
Yesterday, the bill aiming to overhaul the state law regarding domestic abuse protective orders was also introduced. Senate Bill 18, sponsored by Senator Antoinette Sedillo Lopez (D-Albuquerque), would rename the Family Violence Protection Act to become the "Protection Against Abuse and Violence Act" and make other changes to provide clarity and strength to definitions and other provisions. Part of SB 18 is a pair of measures that has been called "Misty's Law"—that would recognize animal abuse with the intent to harm or intimidate someone as a type of domestic abuse, as well as ensure companion animals can be included in protective orders. Both measures protect the human survivors of domestic abuse and their beloved animals by facilitating their escape to safety.
A welcome addition to the body of introduced legislation this year is Senate Bill 134, spearheaded by Senator Roberto "Bobby" Gonzales (D-Ranchos de Taos), to prohibit traveling circuses that use exotic animals in their acts from coming to New Mexico. While the idea of a statewide ban on exotic animal acts might be new to some lawmakers, New Mexicans have long been fighting for, and in some cases securing, changes to local laws that prevent the cruelty involved in traveling circuses that use animals. Animal Protection Voters most recently helped support the City of Santa Fe adopt a city ordinance banning exotic animal circus acts. Supporters can sign this petition in support of a ban in other parts of our state and statewide.
And that's not all. There are many other bills already introduced that have the potential to help animals, including a bill utilizing internships to train the next generation of our state's animal welfare and sheltering professionals (HB 178), a bill to create a wildlife corridors fund (SB 72), bills to strengthen the penalties for larceny of farmed animals (HB 153), and a bill to change the Game Commission that may make wildlife policy more rooted in science and humane values (HB 184). Many more bills have yet to be introduced.
All of the bills that Animal Protection Voters is supporting and opposing during the legislative session can be viewed on the Legislative Session Tracker on the APV website, where you can read more about and follow the progress of each measure.
We are just 4 days away from Animal Protection Lobby Day (and 3 days away from our grassroots lobbyist training)!
Don't miss out on your chance to get the latest details on animal protection legislation in New Mexico and how to help them become law.
There are just 50 days left of the 2023 New Mexico Legislative Session. Let's work together to change the laws to improve animals' lives!