July 12, 2022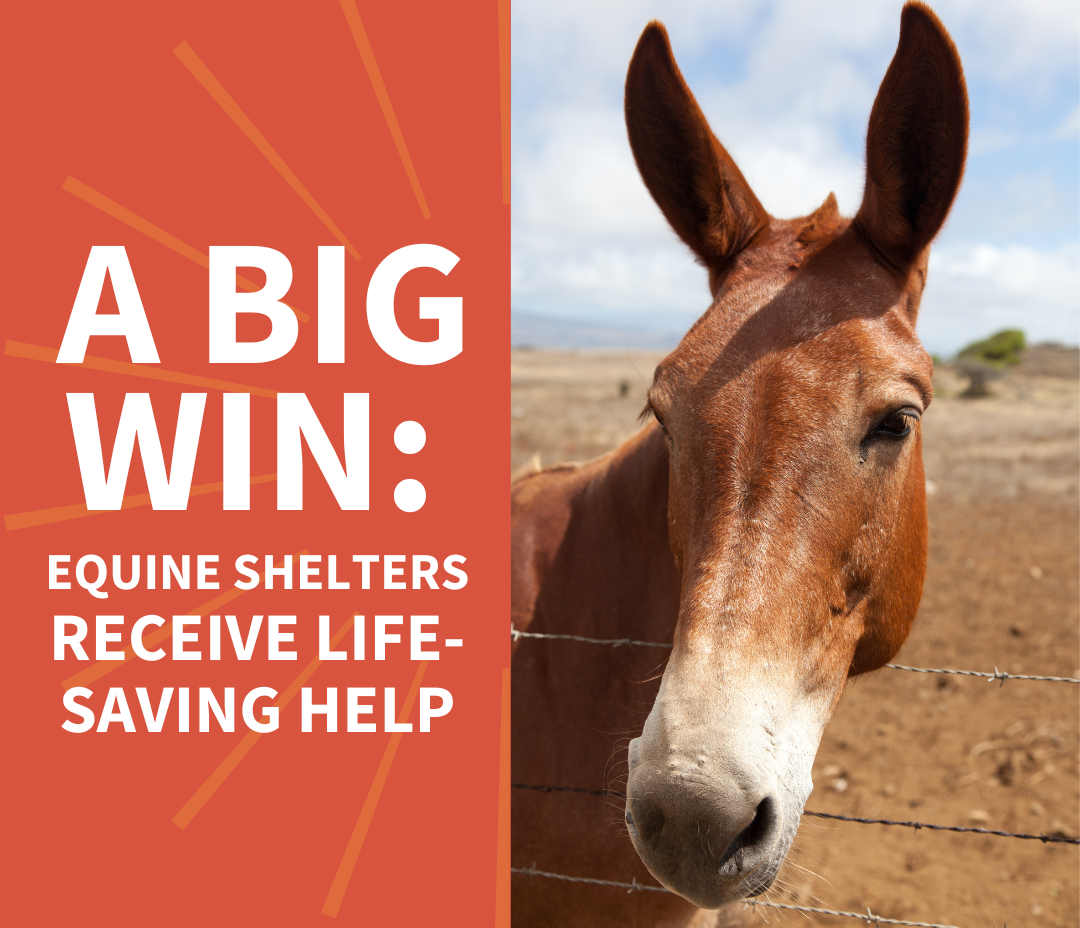 Friday, July 15th, is National 'I Love Horses' Day, which makes this the perfect time to celebrate this year's big win for horses (and their equine relatives) in the New Mexico State Legislature, and thank the individuals who made this humane outcome possible.
At the top of Animal Protection Voters' 2022 legislative agenda was an effort to secure recurring funding for the Horse Shelter Rescue Fund (HSRF). The HSRF was established in 2013 by a bill pushed by APV and supported by the New Mexico Livestock Board, the agency that now administers the HSRF. The HSRF was conceived as a fund whose monies would be distributed to licensed horse rescues who provide crucial shelter for New Mexico's homeless equines, including those who are seized and who otherwise come into the custody of the Livestock Board. The Livestock Board also regulates the licensed rescues to enforce minimum shelter standards for the equines in their care.
We were thrilled to work with a bipartisan group of lawmakers who allocated $350,000 in recurring annual funding for the Horse Shelter Rescue Fund in a 2022 special appropriations bill, Senate Bill 48 (SB 48). Six generous legislators who championed this cause: Senator Roberto "Bobby" J. Gonzales (D-Ranchos De Taos), Senator Carrie Hamblen (D-Las Cruces), Senator Brenda G. McKenna (D-Corrales), Senator Steven P. Neville (R-Aztec), Senator Elizabeth "Liz" Stefanics (D-Cerrillos), and Representative Kristina Ortez (D-Taos).
When funds are recurring, that means they would be automatically included in future regular state budget bills. Of course, no future budget would be final until it has been debated, passed by the Legislature, and signed by the Governor—but having an appropriation for the HSRF in future budget drafts from the start is a strong signal that legislators understand the need for recurring funding for New Mexico's equine shelters.
While SB 48 was vetoed after the Governor cited some issues with portions of the legislation unrelated to the horse shelter funding, a revised version of the bill was brought back in an April 5, 2022, special session. During that special session, Senate Bill 1 was passed with the same $350,000 annual appropriation for the Horse Shelter Rescue Fund, and Governor Michelle Lujan Grisham quickly signed it into law on April 8.
There are two primary reasons why this recurring funding is so monumental.
First, this $350,000 appropriation is the first meaningful annual funding that the HSRF has ever received after its initial creation and original appropriation in 2013 and '14 (championed by Senator George Muñoz). This represents an acknowledgment on the part of decision-makers that the lives of equines matter, and since the state benefits from the services provided by nonprofit equine rescues, it should financially support those organizations.
Second, a huge majority of New Mexicans—just like a huge majority of people everywhere in the United States—do not support horse slaughter for meat production. By shoring up the equine safety net in our state, horses and other equines have a better chance of staying in caring homes, rather than being shipped out of the country to be slaughtered. To reflect New Mexicans' humane values, it is absolutely appropriate that our state's infrastructure protects the lives of equines, just as it strives to do so for the lives of homeless dogs and cats. This protection needs to be enduring.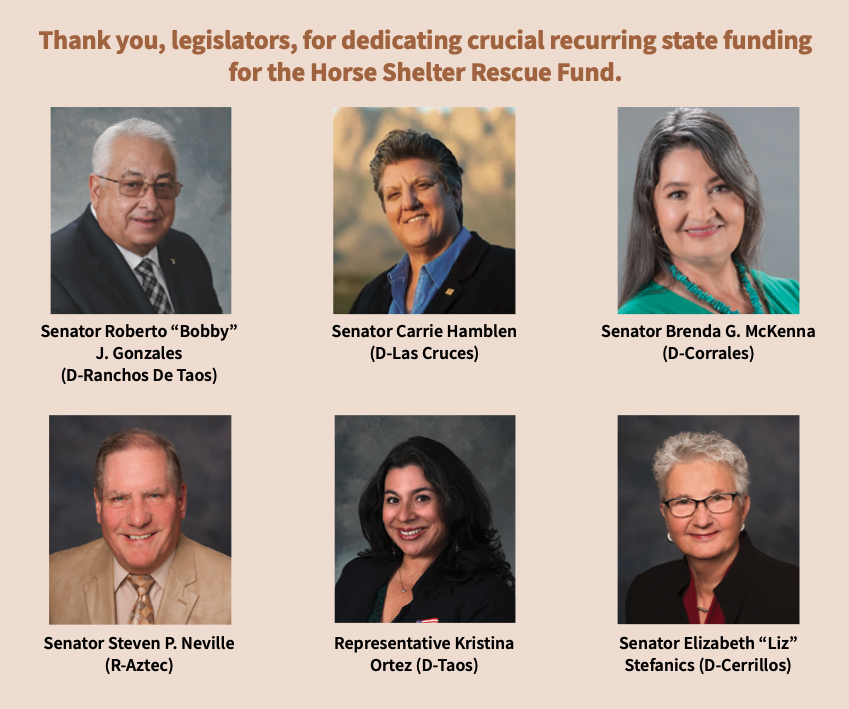 Animal Protection Voters is so honored to advocate for the life-saving work of our state's licensed equine shelters who will be eligible to receive support from the Horse Shelter Rescue Fund. This work—to overhaul and strengthen the systems on which animals rely to be safe and protected in New Mexico—is made possible by our many APV supporters. Thank you for fueling our efforts now and into the future!