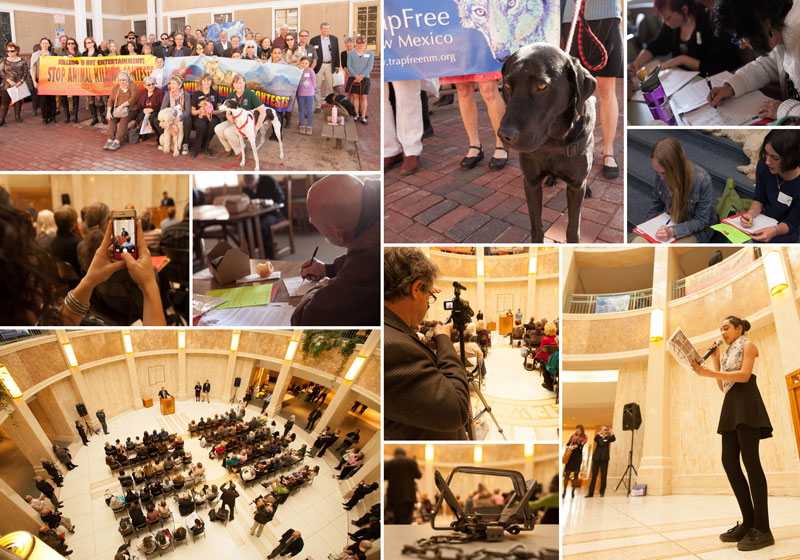 On Friday, February 20th, hundreds of people from across New Mexico took part in Animal Protection Voters' Animal Lobby Day at our State Capitol.
Thank you to everyone who helped make Animal Lobby Day a success from start to finish!
After a morning training on some of the top bills affecting animals, our citizen lobbyists headed to the Capitol to deliver letters to their legislators and even meet with a few in person.
The day ended with a press conference in the Capitol Rotunda, featuring legislative champions, MMA fighter Carlos Condit (read the Albuquerque Journal coverage!), trap victims, and a call for hope from one of our youngest supporters.Read on for a few testimonials from attendees, and please share your pictures of the day with us!
"This was a wonderfully planned, informative, and inspiring event! Thank you very much!"
"It is powerful to be among so many animal supporters! Great use of time and graciously answering so many questions while keeping things on track. Very well organized!"
"I always have to mention how pleased I am that you're all vegans! And the people I've talked to totally rock – thank you for the great work and for organizing this day!"
"I really appreciate getting to take part in something I find important and learn about what I can do to take part in changing things that are wrong/immoral."
"It is wonderful to be a participant in such an important movement and to witness the smart, compassionate and productive people at APV working towards a better world for animals."
Thanks to State of New Mexico staff who arranged the use of the PERA Building for our training, to Legislative Building Services, to our Lobby Day sponsors, including main sponsor the ASPCA, who provided lunch for our participants, to Albuquerque's Public Academy for Performing Arts, to La Montañita Coop who provided free sodas, and to ALL of our dedicated staff and volunteers who provided educational outreach, photography, videography, phone banking, sweat equity and more! Special thanks to the service animals and their handlers who came to deliver delicious, locally-made vegan cookies and a gorgeous equine calendar to every single legislative office in the morning.
Keep up with all bills affecting New Mexico animals by visiting us at our newly revised website and on Facebook and Twitter.
And please become a member of Animal Protection Voters and help sustain this vital work for animals. We're up at the Capitol every day fighting for the issues you care about!