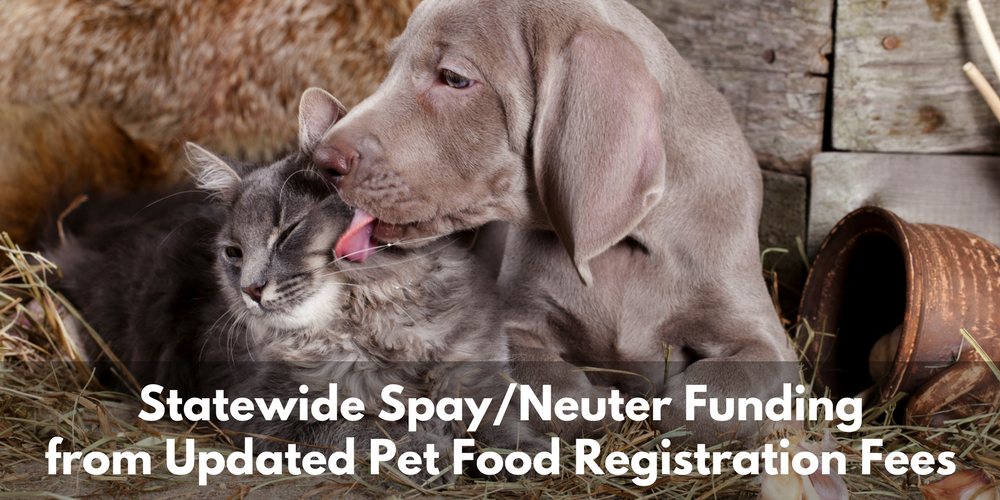 New Mexico
House of Representatives
Bill Number: House Bill 123
Sponsor: Rep. Carl Trujillo (D-Santa Fe)
(2/13/17) Passed House of Representatives 50-17
(1/30/17) Passed House Business & Industry Committee 7-4
(2/6/17) Passed House Taxation and Revenue Committee 11-4
New Mexico
Senate
Bill Number: House Bill 123
Sponsor: Rep. Carl Trujillo (D-Santa Fe)
Status: Died in the Senate Finance Committee when the Committee Chair would not schedule it for a hearing.
(3/7/17) Passed Senate Public Affairs Committee  6-2
What is the motivation for this legislation?
Legislators & Agency Officials requested a funding mechanism that sustains the Animal Sheltering Board and its mission.
Since the Animal Sheltering Board's ("the Board") inception, the NM Regulation & Licensing Department ("RLD"), Democrat and Republican state legislators, and the Legislative Finance Committee ("LFC") have urged the establishment of a funding mechanism(s) to generate revenue needed both for the Board's operation and its statewide spay/neuter program.
Specifically, in 2011, Senate Memorial 36 (SM 36) requested the Board study the feasibility of establishing a fund to lower the cost of spaying and neutering cats and dogs. The memorial asserted that "the impact of homeless pets is staggering and affects the safety and health of the public," and that "many New Mexicans cannot afford to spay or neuter their pets". Every year in New Mexico, almost half the dogs and cats in animal shelters are euthanized (approximately 65,000) because there are not enough homes for them. Low-cost and reduced-cost spay-neuter programs are a proven solution to overpopulation.
In 2012, in response to SM 36, the Board published its Feasibility Study that articulated the most plausible spay/neuter funding mechanism: An added fee onto the current inspection fees on pet foods under the commercial feed registration and inspection program administered by the New Mexico Department of Agriculture.
How are statewide spay/neuter funds administered in New Mexico?
In 2007, the legislature created the Animal Sheltering Board—administratively attached to RLD—whose duties include oversight/licensing of humane euthanasia of homeless dogs and cats, providing recommended standards for animal shelter operations, and developing a voluntary statewide spay and neuter program.
At the same time, the Animal Care & Facility Fund was created, to be administered by the Board. In 2015 a Spay-Neuter Subaccount was created to receive funds for spay/neuter programs.
As of 2017 the Board issues about 316 licensees for animal shelter euthanasia technicians, trainers, and agencies.
Do license fees currently sustain the Board and its spay/neuter mission?
No, they do not. When the Board was created, the Legislature intentionally set Board licensing fees at a modest level. License fees have never generated enough revenue to independently cover the costs of operating the Board, and therefore would not be able to cover the costs needed to implement a meaningful spay and neuter program.
What about other existing funding mechanisms?
They are helpful but still insufficient. In response to funding mechanism requests, legislation passed that created a spay-neuter license plate that generates revenue for spay/neuter programs (the program was enhanced with 2009 legislation). A 2015 bill was passed that established a voluntary tax check-off program allowing New Mexico taxpayers to donate their tax refund to the Board's spay-neuter fund. Despite these two effective mechanisms, together they have not generated nearly enough income for a comprehensive, statewide, subsidized spay/neuter program—nor the operation of the Animal Sheltering Board.
Low-cost spay/neuter programs are in high demand. A program with a broader reach would reduce animal control and euthanasia costs incurred by local governments, and would stem the suffering of animals euthanized only for lack of a good home.
How HB 123 Responds to the Legislature and Agency Officials
In further responding to the Legislature's requests for solutions, and as recommended by the 2012 Feasibility Study, advocates are promoting the creation of a spay-neuter funding mechanism fueled by increasing the total fees pet food manufacturing companies already pay to the NM Department of Agriculture to sell their products in New Mexico.
In addition to the current registration fee—$2 per label (product name or brand)—companies will contribute $100 per label, subject to several exemptions. Funds would be deposited into the Spay-Neuter Subaccount of the Animal Care & Facility Fund, currently administered by the Board. This increase brings New Mexico in line with what other states charge for commercial pet food registration fees.
The fee increase would generate an estimated $700,000-$800,000 per year to spay/neuter about 11,000 animals of income-qualified New Mexicans, and well as to operate the program and the Board. Funds would be deposited into the Spay-Neuter Subaccount of the Animal Care & Facility Fund, administered by the Board.
Exemptions: The fee increase would only apply to companies whose gross sales are more than $500,000/year; the fee increase would not apply to prescription diet labels sold by veterinarians.
Facts
The U.S. pet food market had a value of $24.60 billion in 2016. The market is forecast to reach $30.01 billion by 20221. There are almost 300 companies operating in the pet food sector in the U.S.1 The largest are in Figure 1 below.
According to a 2015 National Pet Owners survey, 60% of U.S. households include a "pet." New Mexico has 914,952 households2; therefore, the number of households with pets in New Mexico = 548,971 households.
Pet food manufacturers sell 8,300 types of food (labels) in New Mexico, according to the NM Department of Agriculture.
The NM Department of Agriculture already has administrative processes in place for assessing label fees for pet food labels, meaning an increased fee will not create any additional agency costs.
Pet food companies sell an estimated $108,384,000 worth of food in New Mexico per year (determined by prorating national sales to NM's household population.) Even if pet food companies were to pass along the entire fee increase to their consumers, which they would not have to do, the fiscal impact would be $1.48 per pet-owning household per year.
Figure 1

Company
Global Sales
U.S.-based Mars Petcare Inc
$17.224 billion
U.S.-based Nestlé Purina Petcare
$11.917 billion
U.S.-based Big Heart Pet Brands
$2.280 billion
U.S.-based Hills Pet Nutrition
$2.212 billion
U.S.-based Diamond Pet Foods
$1.150 billion
U.S.-based Blue Buffalo
$1.027 billion
U.S.-based Spectrum Brands / United Pet Group
$800 million
Japan-based Unicharm Corp
$722 million
Pet Food License and/or Registration Fees Charged by State3: