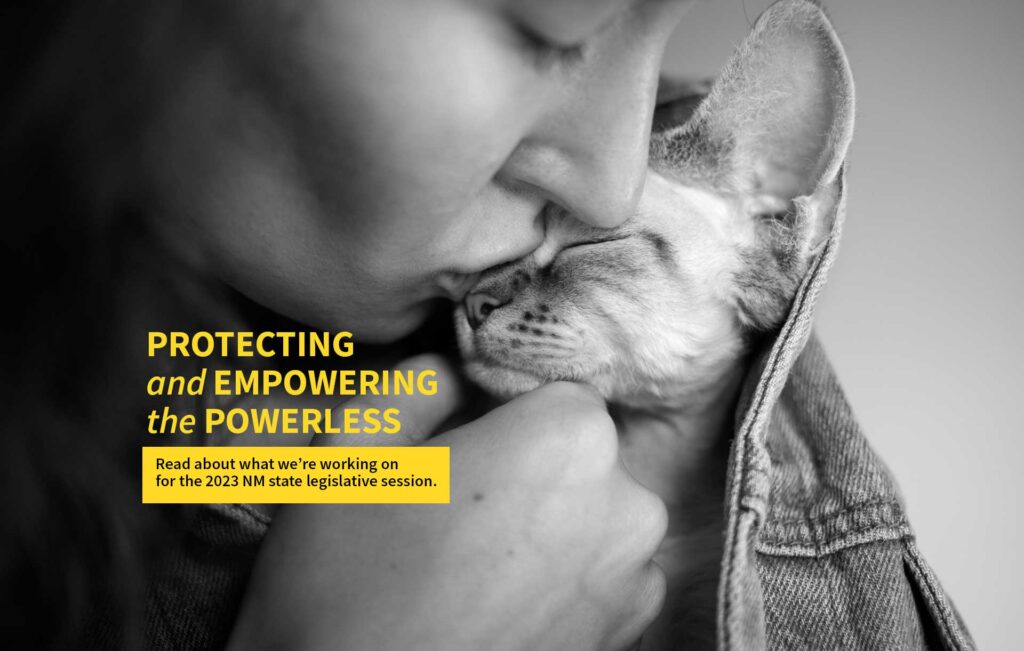 Marianne was out of town when she received a disturbing call from her ex-boyfriend: he had set her house on fire. By the time firefighters were able to extinguish the fire that morning, the house was full of smoke, Marianne's bed had burned, and her beloved cat Misty was found dead.
This nightmare scenario is just one example of the well-documented link between animal cruelty and domestic abuse and other forms of gruesome violence. Companion animals are cherished members our families. Unfortunately, this powerful human-animal bond can make animals uniquely vulnerable as a tactic or victim of abuse.
These are topics that are tough to talk and read about—but they are important. APNM's legislative arm, Animal Protection Voters, is working diligently to strengthen state laws to provide more protections for the vulnerable and facilitate actions needed to stop the abuse.
Including Companion Animals in Domestic Abuse Protection Orders
Statistics show that domestic abusers often control, threaten, punish, or intimidate their victims by threatening or harming companion animals. And because victims understand the harm the abuser may inflict on the animals, many delay or refuse to leave abusive relationships.
The Family Violence Protection Act is the state law in New Mexico that allows a person to petition a court, in a civil case, to secure a domestic abuse protection order against their abuser.
The law sets out a list of abusive conduct that triggers the ability to petition for protection—such as bodily injury, assault, or property destruction—but animal abuse is not on that list. Additionally, while the law specifically allows a court to award custody of any children involved as part of the protection order, it is silent on whether a court may also include companion animals in the protection order. Legislation to fill these gaps is needed.
APNM advocated for Marianne and her cat Misty on the day her abuser was sentenced for arson and animal cruelty. Now, Animal Protection Voters is part of a statewide coalition working to recommend updates to the Family Violence Protection Act for the 2023 state legislative session, and are ensuring that animal protection provisions are included in those updates. Marianne told us when the bill is introduced, she would like those provisions to be called "Misty's Law."
Making New Mexico the 49th State to Outlaw Animal Sexual Abuse
You read that correctly: New Mexico is one of only two states where animal sexual abuse is not yet a crime.
APNM was reminded of this recently when we received a report from a concerned individual who spotted an alarming Craigslist ad in Albuquerque soliciting for sexual contact with a horse—and law enforcement couldn't do anything about it.
Animal sexual abuse, also known as "bestiality," is not only cruel to animals. It is also often connected to child sexual abuse, child pornography, human sex trafficking, and other violent and exploitative crimes. Evidence that sexual abuse of animals occurs is readily available, and experts report it happens more frequently than the public is aware.
It is far past time to make bestiality a crime in New Mexico. Animal Protection Voters has drafted a bill to establish one of the strongest anti-bestiality laws in the country and is engaging lawmakers to secure their support.
Follow Animal Protection Voters for news on these bills and more. APNM and Animal Protection Voters are working on other pieces of legislation, too—including bills to protect and humanely manage wild horses and modernizing New Mexico's wildlife agency. Thank you for making our work possible.