February 18, 2019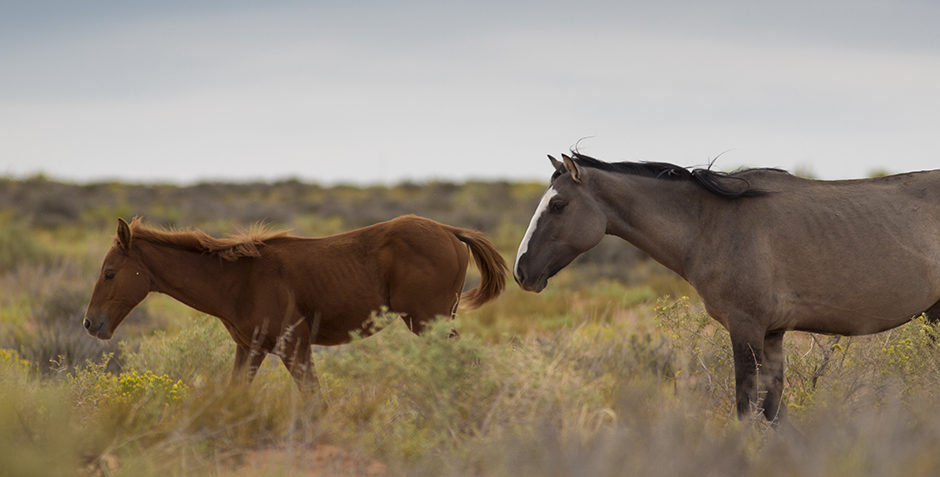 Wild horses are treasured symbols of the American West, and their presence in New Mexico is cherished by many who live here. Unfortunately, not all community members appreciate wild horses, and years of conflict have put horses in terrible danger.
Broken state law and consequences from litigation have placed wild horses at risk—for example, currently, if wild horses block roadways or are injured in vehicle collisions, or if a person deliberately threatens or harms a wild horse, authorities cannot intervene for the horses' benefit. Furthermore, common-sense efforts to promote coexistence have been hindered by rigid polarization, and the grim reality is it's the horses who have paid the highest cost.  
After years of work and comprehensive legal analysis here in New Mexico, APV believes a legislative fix to address immediate concerns regarding the safety and humane management of New Mexico's wild horses is within reach. Our support for this year's Senate Bill (SB) 158 (specifically, the committee substitute bill) hinges on some final amendments prepared for the next committee hearing. Assuming those amendments are adopted (UPDATE: the amendments were adopted and are now a part of the bill), APV will support the bill, and here is what the new SB 158 would do:
It explicitly protects wild horses under the state animal cruelty statute. After a Court of Appeals opinion in 2015 questioned whether wild horses are covered by the state cruelty statute, potentially leaving a dangerous potential loophole in the cruelty law, SB 158 will ensure clarity for individuals and law enforcement.
It explicitly removes wild horses from the definition of "livestock." In line with case law, SB 158 ensures New Mexico's wild horses are covered by the provisions of the state wild horse laws, not by provisions for livestock disposition.
It makes New Mexico a "fence-out state" as it pertains to wild horses. Once passed, SB 158 will make private landowners responsible for constructing a proper fence to keep unwanted wild horses off their property; the only time private landowners could request removal of wild horses from their private land is when they have built a fence to keep them out but the horses have penetrated the fence. Note: because wild horses are not "livestock," the current fence-out law does not apply to them.
It clearly establishes that wild horses may only be captured on public land for public safety or animal health reasons. SB 158 does not allow capture for population control, but promotes on-range management of horses.
Sale, slaughter, and euthanasia are NOT permitted by SB 158 for population control. The bill allows only 4 options for wild horses—all except transfer to a horse rescue are already in current law—if they are captured:
1.  Relocation to public land;
2.  Relocation to a public or private wild horse preserve;
3.  Transfer to a wild horse rescue or retirement facility, an option for some human-habituated wild horses who are good candidates for adoption; or
4.  Adoption for private maintenance (no more than 4 per year, unless special permission granted from state veterinarian).
It clarifies when a licensed veterinarian is authorized to euthanize a wild horse suffering from life-threatening illness or injury; and that euthanasia is not permitted for population control. In the past, many veterinarians have hesitated to treat or euthanize irreparably sick or injured wild horses for fear of repercussions due to the confusion in the law. SB 158's change would ensure wild horses in need of mercy will receive it in a timely, humane manner.
It removes outdated, unfeasible provisions—including a DNA test requirement that would allow Spanish colonial horse breeders to collect wild horses, and a range study ordered to be conducted by an entity that does not actually conduct such studies.
It explicitly permits multi-party agreements to facilitate humane horse management, including safety measures, fertility control of wild horses, and conflict mitigation. To maximize the ability to safely and humanely protect and manage wild horses on the range, cross-collaboration and community partnerships are likely part of the solution, and this is another area where New Mexico has opportunity to show leadership in the years ahead. SB 158 sets out how such agreements could be successful for various aspects of wild horse management.
Wild horses, like all animals, have an inherent right to dignity and respect. But without serious reforms, wild horses across our state face a bleak future. The transformation of SB 158 would be a great help for New Mexico's wild horses. They will enjoy more protections across the board, and people will benefit from a clearer state law.
Questions we've received about SB 158 include why the bill puts the New Mexico Livestock Board (NMLB) in charge of the wild horses. The answer is: The NMLB already has jurisdiction over wild horses. The current wild horse statute is administered by the NMLB. The Court of Appeals, in 2015, affirmed that the NMLB has jurisdiction over wild horses, including enforcement and compliance with the wild horse law (read the opinion here). Subsequently, our aim in working on SB 158 is to ensure that the NMLB has strict boundaries within which they work to administer the wild horse law.
We appreciate the great interest and passion for wild horses that we've heard from our supporters and community members. We are proud to work every day for the protection of all animals in New Mexico. If you have any questions at all, please feel free to reach out to us at media@apvnm.org.