Last week, the New Mexico Legislature approved House Bill 64, a bill that will create a new funding mechanism for statewide low-cost spay/neuter services by charging dog and cat food & treat manufacturers an annual fee for each product they register in New Mexico. Registration is required in order to ensure the safety of dog and cat food/treats that we feed the animals in our homes and in our animal shelters. Nearly everyone agrees that low-cost spay/neuter is the most effective and humane way for New Mexico to curb our pet overpopulation problem.
But unfortunately, there is a good deal of misinformation that is being circulated by opponents to the legislation—namely the pet food manufacturers who don't want to lose a penny of their profits. And these opponents have perpetuated this misinformation by scaring local pet food wholesalers and retailers as well. Over the past month, as we've worked on House Bill 64, we agreed to several changes to the bill in order to soften even perceived impact and protect truly small companies, but there are still a few pet food stores opposing the bill—out of understandable concerns for their businesses.
However, we are confident that those fears are ultimately unfounded. But you don't have to just take our word for it. Here in this blog, we will share with you, step-by-step, exactly how the new fee will be implemented and show the extremely minimal (if any) impact on consumers and retailers.
Who gets charged the fee?
The fee is charged to MANUFACTURERS, not to wholesalers, retailers, or consumers.
Every year, pet food manufacturers pay fees to the state in order to sell their products in New Mexico (this is the case in every state). House Bill 64 wants to add on a spay/neuter fee of $100/year, per label/product line, which would be phased in over three years ($50 the first year, $75 the second year, $100 the third year). Again, this is charged to pet food manufacturers—NOT to wholesalers, retailers, or consumers. This is not a new sales tax that consumers pay at the check-out counter. It's a manufacturer-level fee (in addition to existing fees) assessed by the NM Department of Agriculture at the point of annual registration of dog/cat food products. And it is in fact a fee, dedicated to a related program, not a tax, which is something related to general state funds.
Why such a big fee increase?
Different states charges pet food manufacturers differently. Typically states assess some combination of per-product fees and/or volume-based fees. New Mexico charges by far the smallest registration fee—just $2 per product—but then also charges inspection fees (a flat $25 per product lines sold in small packages, and 15 cents per ton of product lines sold in large packages). So adding an annual $100 fee per product seems like a big jump from the current fees, but not really when taken in context.
Many states charge manufacturers much more than what New Mexico currently charges in annual manufacturer fees. Several states (including states with smaller populations and smaller pet food markets) charge $100 per product. Others charge less (e.g. Illinois charges $90 per product) but then also charge additional volume-based fees (similar to New Mexico), which amounts to more total fees than what New Mexico charges (due to the larger volume of pet food sold in their larger markets). The bottom line: House Bill 64's additional fee still puts New Mexico well within the realm of what has been customary and normal for manufacturers to pay in other states. It's not "off the charts" by any means.
Additionally, to make it even easier for the pet food industry to adjust, the fee will be phased in over three years: $50 per label in 2019, $75 per label in 2020, and $100 per label in 2021 and every year afterwards.
So how will it affect consumers like me? Will pet food prices go up?
After the manufacturer pays the additional fee enacted by House Bill 64, they will then decide if they want to absorb that fee into their cost of doing business—or if they, instead, want to pass it along to consumers. If the cost were passed along, it would almost certainly trickle down through the distributors and retailers and down to the consumer level. So what will the cost to the consumer be? Let's do the math.
If the price of a product is raised proportionately to the fee assessed (i.e., just enough to cancel out the additional fee), then it would amount to the following calculation:
the fee amount per product line per year ($100, at the end of the phase-in period)
divided by
the total number of items of that product line sold in the state in one year
Let's look at a can of dog food, for example: Say a manufacturing company makes a certain product line: canned Flavor X stew. And let's say, in the entire state of New Mexico (population of about 2,081,000), because they're a relatively small company, they've got just 200 loyal customers that buy one can of Flavor X stew a week (52 cans a year). That means the company is selling a total of 10,400 cans (200 x 52) of Flavor X stew each year. If they take their additional $100 spay/neuter fee and divide that up among the 10,400 cans they sell, then each can will increase in price by LESS THAN A PENNY PER CAN. If you round that up to one penny, then one of those 200 loyal customers pays an extra 52 cents a year (1 cent x 52 purchases a year).
Now let's look at a bag of dry dog food, for example: Let's say a manufacturing company makes a Flavor X kibble product line. Again, let's assume they've got just 200 loyal customers statewide that buy one bag of Flavor X kibble a month (12 bags a year). That means the company is selling a total of 2,400 bags (200 x 12) of that product a year in New Mexico. If they take their additional $100 spay/neuter fee and divide that up among the 2,400 bags they sell, then each bag will increase in price by ONLY 4 CENTS PER BAG. That means each one of those 200 loyal customers pays only an extra 48 cents a year (4 cents x 12 purchases per year).
These increases are practically nothing—the loose change that gets lost in the couch—but what it all adds up to is the best, and really the last, chance New Mexico has to get control of the pet overpopulation problem.
And remember that most manufacturers' products have far more than 200 customers in the entire state of New Mexico, which means any price increases seen would be even smaller fractions of a penny per item.
So the fee won't really increase pet food prices?
Actually, we cannot find any relationship between the amount of pet food manufacturer fees and the price of pet food at the retail level. In fact, we called around the country to do a price comparison on several brands of dog food in New Mexico and other states that charge pet food manufacturers higher fees. And what we found in most cases is that even in states with higher manufacturer fees—including those that specifically raised their pet food manufacturer fees to fund spay/neuter services—the same dog food or treat product was less expensive there than it was here in New Mexico.
Here is a non-exhaustive chart showing some of the price differences between states: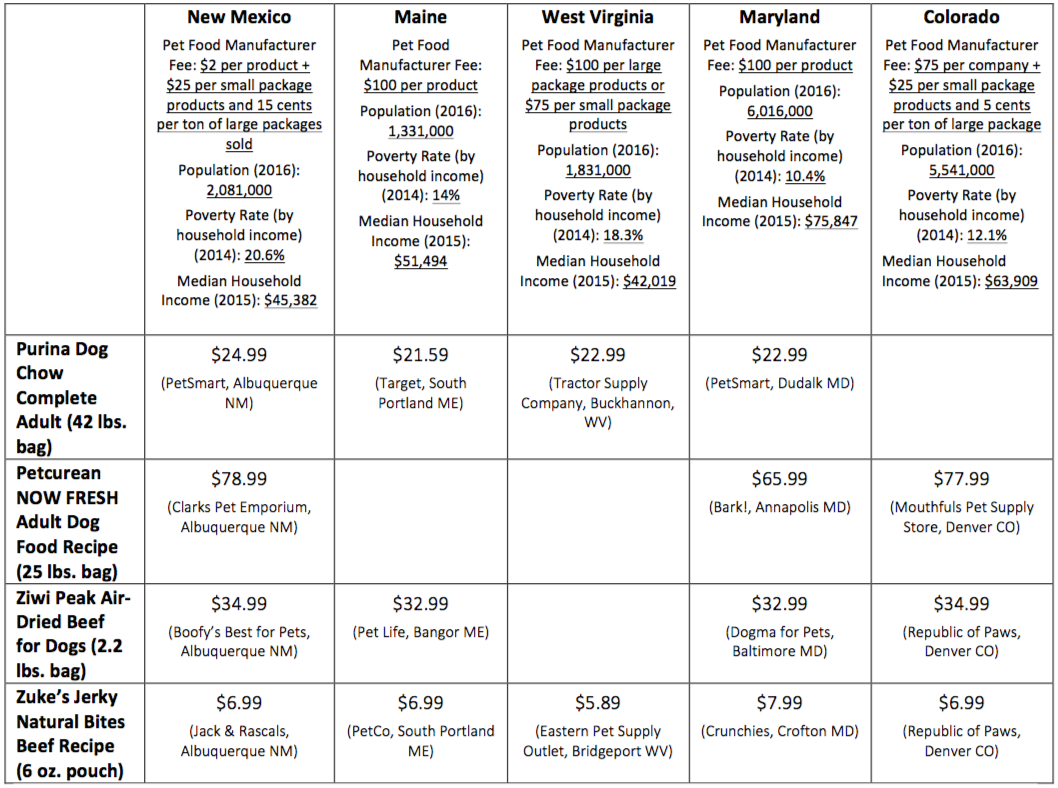 With New Mexico being a relatively small state with currently very inexpensive pet food manufacturer fees, it makes no sense that New Mexico's dog food prices would be typically higher than in these other states. As you can see, there are clearly all kinds of other factors that determine retail prices—the prices are simply unrelated to the amount of fees charged to pet food manufacturers.
What about our local retailers? Will they be hurt?
In so many wonderful ways, New Mexico is a unique state—but in this case, we can look at the other states that have already implemented this same funding mechanism to predict House Bill 64's impact. And there is no evidence whatsoever that shows local retail pet food stores were negatively affected by the fee increases in those other states.
Two of those states have smaller populations and pet food markets than New Mexico: Maine (enacted their fee increase in 2005) and West Virginia (enacted their fee increase in 2017). In the case of Maine, which has had this funding mechanism in place the longest, the pet food manufacturer fees have simply had no impact on retail businesses. Pet food manufacturers not only remained selling in the state, but also increased the variety of products sold.
Again, don't take our word for it. Read their letters for yourself (click the images below to read the entire letters in PDF form):
There are false rumors that House Bill 64 would drive manufacturers to pull their products out of New Mexico altogether or reduce the variety of products sold to avoid the per-product fees. But again, this simply does not bear out in the actual data from other states. Maine increased its annual pet food manufacturer fees in 2005 in order to fund spay/neuter—so we requested data from the Maine Department of Agriculture showing the number of different pet food labels/product lines registered in the state from 2004 through 2017. Here's what we received – and here are the numbers in a chart:
| | |
| --- | --- |
| Year | Maine Dog/Cat Food and Treat Labels/Product Lines Registered |
| 2004 | 4,273 |
| 2005 | 4,957 |
| 2006 | 5,574 |
| 2007 | 6,013 |
| 2008 | 6,592 |
| 2009 | 6,882 |
| 2010 | 6,272 |
| 2011 | 6,408 |
| 2012 | 6,779 |
| 2013 | 7,317 |
| 2014 | 7,844 |
| 2015 | 8,329 |
| 2016 | 8,686 |
| 2017 | 9,912 |
As you can see, there was no decrease in the number of products registered in response to 2005's enactment of a pet food manufacturer fee increase. And over time, the number of products has steadily risen. In fact, between the year that the fee increase was adopted and 2017, the number of registered products doubled! Additionally, the number of individual pet food manufacturers registering products in Maine increased by a third between 2005 and 2017. The fee increase simply had no negative impact on the manufacturers.
Can the "small specialty brands" afford this?
The concern that some retailers have expressed about the harm to "small manufacturers"—particularly those serving high-quality, premium, specialty, organic, and raw products, which is the fastest growing segment of the pet food market—is a bit misleading. In one case, a retailer told us she was worried about the brand called Tuffy's. They sell 69 labels in New Mexico (according to NM Department of Agriculture data), and so they will only pay an additional $6,900 per year (once the phase-in is complete). Initially they'll only pay under $3,500 the first year. Tuffy's annual revenues in 2016 were $200 million—so yes, even an independent family-owned business that sells premium and organic products globally, like Tuffy's, is actually likely to be able to afford an extra $6,900 a year. Or, as discussed earlier in this article, Tuffy's can pass along the cost to consumers, which will amount to pennies per item.
We've heard fears that customers of small brands would see an increase in the price of a single can of dog food from $2 to $7 a can, for example. But that would mean that the manufacturer is only selling approximately 20 cans of that particular product line in the entire state of New Mexico for the entire year! As you can well imagine, selling such a small amount is extremely unlikely for any successful manufacturing business (even the specialty brands). Manufacturers who sell globally or even regionally will have in-state retail networks, sell online into the state, and spend on marketing campaigns to attract customers to their products.
So what about brand new businesses, or truly small manufacturers, who don't have big sales numbers? If their annual revenue is $3 million dollars or less, they are exempt from the fee increase. House Bill 64 does not apply to these businesses.
This is a proven effective way to save animals' lives.
House Bill 64 was introduced because its funding mechanism for spay/neuter was proven to work in a variety of other states—with no negative side effects, and extremely effective in achieving its goal: reducing companion animal overpopulation. Of the states to implement this funding mechanism, Maryland has done the best job of tracking data to show outcomes. And it's clear: After just three years of a phased in fee increase—from $0 up to $100 per product to fund spay/neuter—Maryland reduced its euthanasia rate by 29 percent! You can read all about Maryland's progress in their 3-Year Analysis Report. Think of all the lives we could save and all the tax dollars we could conserve once we implement this here in New Mexico.
Do you have any other questions?
What's most important to us is that New Mexicans have an accurate understanding of what House Bill 64 does—and what it does not do—when making their decision to support the bill. So please contact us if there are any other questions we can answer for you. And thank you for being so involved in the issues that impact animals!